THE YEAR 2014:
The new year started around here like all good new years do: celebrating with friends until way too late & waking up in time to watch the Rose Parade on TV (for the record, we watch the rerun as we generally sleep through the live broadcast).
By the way, it was a lot of fun playing in Pasadena the weekend before New Years Day. The energy was great. Thanks to all who came out!
The next few weeks will include a performance with some friends at the NoHo Arts/Ideas gathering called Popcorn. We are currently working on some larger events in the next couple of months. To stay in the loop, be sure to sign up on our email list below.
Cheers to 2014! Let the new year wash over you and bring new adventures with it!
ALBUM LAUNCH UPDATE – IT'S JUST THE BEGINNING:
We have been so thrilled with the response to the album! We've received emails and messages from people all over the world and every last one has been so great.
This is just the beginning… We are working on promotion and have some great plans ahead. But I am so grateful to each of you that has been telling people about Closer By One. You make all the difference. And you are who we've made this album for.
If you haven't already dropped by, we have some merch worth checking out at our store.
Hope to see you out a show in the near future!
Truly grateful,
Eric Shouse & the music lovers of Closer By One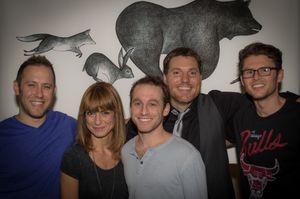 Hi Everyone!
THE LAST FEW CRAZY WEEKS:
The last few weeks have been amazing and a little crazy… Many of you know that my wife gave birth our son (Everett) about 10 days ago and we spent a few days in the NICU with him, but he is now home and is in perfect health!
The Album Launch Party on October was a huge success! I've attached a few pictures below. We were able to play the album from start to finish for the crowd, we had some food & drinks, and then the band play a few songs live… It is amazing to get to play the arrangements of these songs from the album for a live audience!
Ben Eggehorn, our producer/mixing engineer did an incredible job recording and mixing the songs and this last week the album was sent off to the mastering engineer who took the songs and gave them their final "polish". Mastering is a process of taking the songs and running the audio through EQ, compressors and other magical processors that help make the sound more defined, warm and sometimes punchy. The mastered versions of the songs to those of who geek out on audio gear and technology sound AMAZING… to the rest of you, you might notice that the music makes you want to move or moves you more.
ALBUM RELEASE DAY IS TUESDAY!
Tuesday (10/29) will also be the day that the album will be available at major online retailers (iTunes, Amazon, etc). Tell your friends.
WE NEED YOUR HELP:
The album release is just the first step to this album's success. As I hope you already know, you are a very important part to making this album succeed. We would love it if each one of you posted about the album on Facebook, Twitter, etc. It's especially helpful if you can include a link in some of those posts.
If we can spread the word about the band (remember Closer By One is now our band name as well as the name of the debut album) and get more people on board we'll be able to keep making music and hopefully be able to play more shows and release more songs in the very near future.
WE WANT TO HEAR FROM YOU:
As we started promoting 'Closer By One' we'd love to know what you think of the album, maybe which songs you like the most and even what kinds of songs you'd like to hear us record or play live.
I CAN'T THANK YOU ENOUGH:
I thanked all the Kickstarter supporters at the Album Launch Party, but I still feel like it wasn't enough. You all have helped me start something that is truly a dream that I have had for a very long time… since I was a kid. I hope you'll stay with me on this journey as grow this seed of an album into a band with catalog of albums and a career making music that moves people.
We'll be in touch very soon!
Sincerely,
Eric Shouse & the folks of Closer By One


























*ALBUM ARTWORK REVEALED
Here's a sneak peek at the new album cover… The debut album 'Closer By One' will be released October 29th